Blog Home
A Face Kit for Every Skin Tone
Hollywood makeup artist Siân Richards is transforming the makeup industry for actors of every shade.
June 14, 2022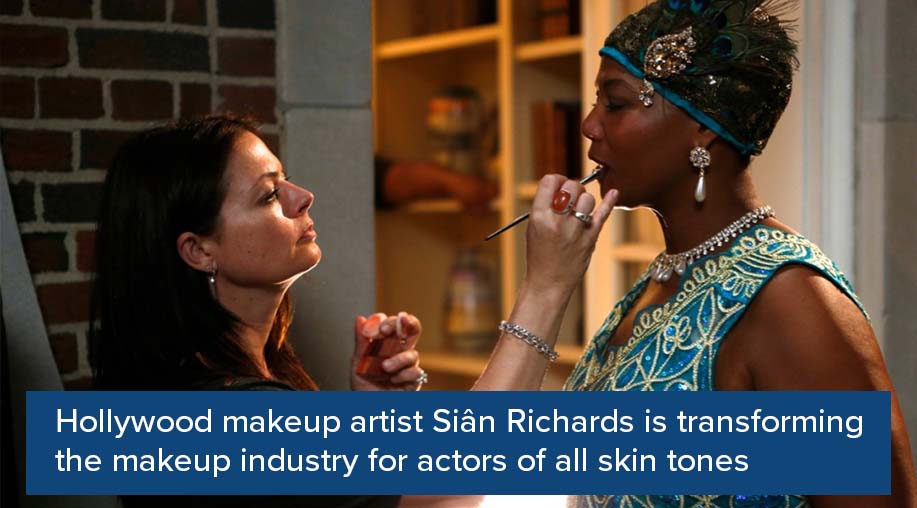 "Black skin is beautiful. And the richer, the more beautiful to me, I have to say, because of the glorious, reflective quality that it has. The texture is different to Caucasian skin. It's a beautiful canvas to work on."
Siân Richards is an expert makeup artist born in England and now living in Hollywood, with a specialty in developing palettes for actors with a range of rich, colorful skin tones through her company, Siân Richards London. Queen Latifah, Halle Berry, and the late Chadwick Boseman are just a few of the actors who have benefited from her skilled artistry.
A fine arts background and fascination with history has guided her makeup journey, allowing Richards to mix new colors with an understanding of diverse skin tones, putting her at the top of the field as the go-to makeup artist for actors of color. Her breadth of work spans over 60+ film and television projects, including 'Black Panther,' 'Avengers: Infinity War,' 'Judas And The Black Messiah,' and 'Cloud Atlas.' And that doesn't include all the editorial and fashion projects prior to transitioning into Hollywood.
Siân's Welsh father, renowned makeup artist, Hu Richards, ('2001: A Space Odyssey,' 'Oliver,' 'Mary Queen of Scots,' 'Scrooge'), introduced her to special effects makeup and tools at the tender age of 2, when she stepped onto her first set. "It gave me a sense of craftsmanship when I saw all of his tools," she recalls about the early years watching her father in his workshop, and adds, "I saw the products that he used. In fact, I learned the smell of makeup long before I knew what it was. I watched the films that he worked on. I looked at the style of work that he did, and according to my mother, inherited the same color sense that he had."
Transitioning from fashion to film
After growing up fascinated by the behind-the-scenes world of cinema, Richards went on from art school to London College of Fashion to learn how to work with wigs and makeup with hopes of a career in special effects makeup. That goal took a detour when she landed her first job working in editorial and fashion. She would stay working in beauty makeup for the next 10 years.
Richards credits her beauty background as the foundation for the work she does now, in film and television, saying, "I could do anything from a clean editorial look to Playboy glamor. This beauty experience enabled me to understand makeup textures and eventually led me to work in production more. I would get a lot of American producers hiring me because they saw my beauty work and they could see it aligned with their vision and the way Americans do their beauty, which is vastly different from the way the Brits did back then."
The feature 'B.U.S.T.E.D.,' directed by Andrew Gough and starring multi-hyphenate musicians David Bowie and Goldie, was her first film as head of the makeup department at 28 years old, where she worked with a wide range of brown and black skin tones. On set, she received glowing reviews from the cast and director for the care she placed into designing the makeup for people of color, and realized she found her calling.
The history of makeup for black and brown actors
Prior to the 90's, product and application techniques for brown and black skin were not widely available in the cosmetic and film world. As a result, often, many artists would go without makeup on set, or bring their own products. The cosmetic industry, coming from a predominantly white driven ownership did not recognize people of color in their makeup lines, and for years, many cultures were ignored by the market. "When companies aren't interested in the people that they're designing products for, and it's only to placate and make money, then they won't care about creating something that is right for those people," Richards says, "And that is the biggest problem for any person of color over the last 20 to 30 years in the beauty industry. The products were either too yellow, too orange or too ashy. They were never right."
Recognizing this gap in the makeup industry, she set out to create pigment accurate colors to accommodate and represent global skin. When shooting 'Black Panther' she noticed how off pigments were for deep skin and created two palettes, the first called Essence which she made for Chadwick Boseman, and later an even deeper palette called Melanin.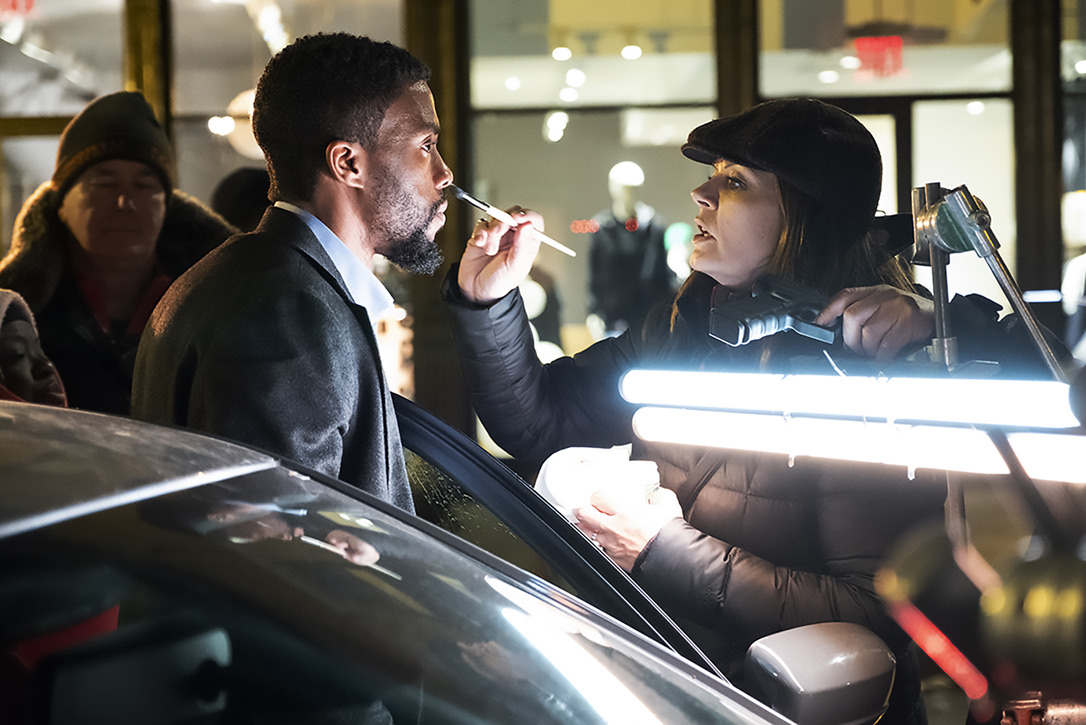 Siân Richards applies makeup to Chadwick Boseman on set of '21 Bridges,' courtesy of Siân Richards.
Caring about people first has led to her transforming the beauty industry. "You must love people and their heritage to be able to represent them properly. You must really 'see' them," she explains, "An African American does not have the same type of melanin as a deep-skinned person in Sudan, Nigeria, or Ghana. Because of their history and also because the sun is shines differently in different hemispheres. So, I must understand the undertones in skin, and their origins, to properly apply makeup to people of color."
Skin tones are rooted in a rich history, where physiognomy has changed over time – from noses to jaw lines to lips to eyes. With a knowledge of cultural shifts, landscapes, and mixing of diverse cultures over time, makeup artists can make informed decisions on how to approach a diverse range of actors who come from these rich historical lineages. 
Makeup education
Education is one of the main ways the industry is going to change, Siân believes. "When you look at the way makeup schools teach makeup for people of color, it's shocking; they have failed an entire people" she recounts, "Back in the 90's we did not have even one class of doing makeup on people of color. I was good at it because I come from a multi-cultural family, and I went to art school, so I knew how to mix paint. When you have schools to this day that dedicate only two or three days out of an entire course to teaching multicultural skin, that is a flaw in the education system."
On HBO's, 'Bessie,' Siân Richards explains her process for doing Queen Latifah's Emmy-nominaed makeup and the difference between applying makeup for film versus editorial makeup, saying, "Queen is caramel, so I deepened her skin to play Bessie Smith who was from the South and much darker than Queen's skin tones. I never do makeup to this day with only two or three colors. That style is more beauty and editorial. You don't necessarily do that for film, and especially not if you want skin to look real."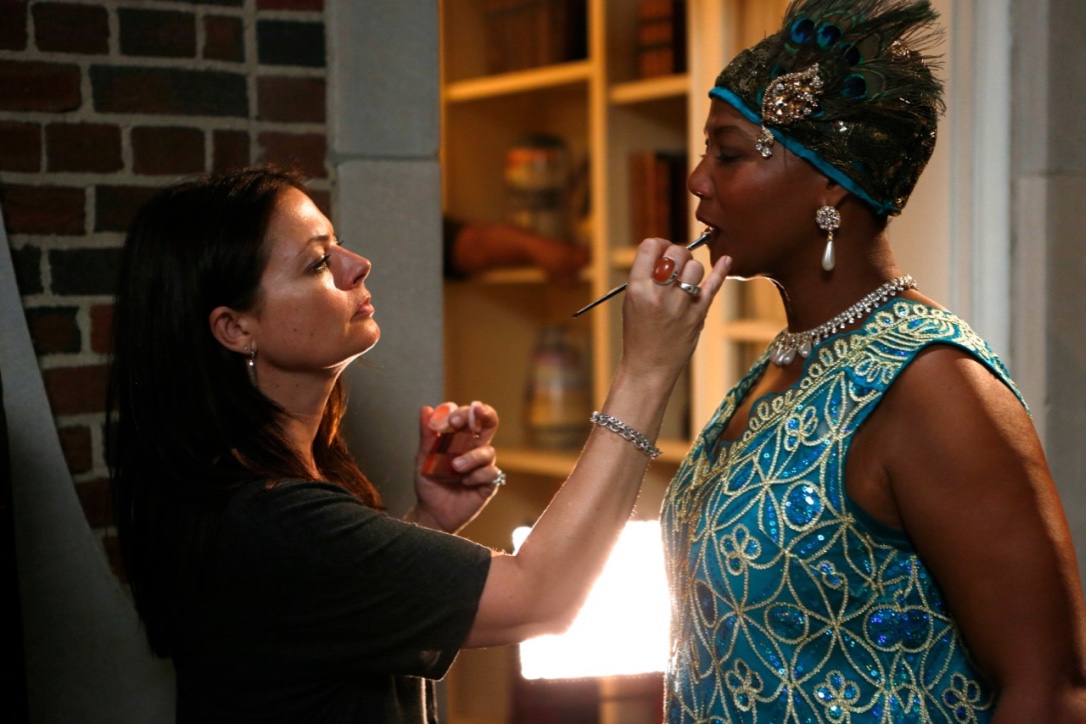 Siân Richards applies her Emmy-nominated makeup design to Queen Latifah in 'Bessie,' courtesy of Siân Richards.
She continues, "When I do people of color on film, I use a myriad of colors on their skin because there are areas that have golden tones, there are areas that have olive, there are areas where it's warmer and redder. It depends where they come from and what their skin structure is like."
Instead of a big makeup brush, Siân opts for a small one, about ¾ inches long and about ½ inch wide instead, painting in the nuances of the skin. Sometimes she'll mix up to 8 different colors to create just the right palette or add a hint of gold or red to maintain a dewy and blended look.
The level of care and attention to each character of a project is what puts her clients at ease; Siân sees them for who they are, and the beautiful richness of their color. "I don't just show up and do pretty makeup," she says, "I show up in reverence. I show up with homage in mind."
Working in harmony with set design, lighting, and costumes
In addition to studying the physical features of an actor to develop the best makeup palette for their scene, Richards also works closely with the other departments on set. Consulting with set designers, the director of photography, costume design, and lighting crew ensures that the looks she creates blend well for the camera.
If the wallpaper colors of a set, for example, are not in harmony with the coloring of a particular actor, Richards must color-correct the actor for that set. Siân found herself in this predicament while filming 'Cloud Atlas', having to color-correct Halle Berry on every set that heavily featured blue or green scenery which clashed with the warmth in her skin tone. A huge proponent of not 'fixing it in post,' Siân takes ownership as an artist to reduce coloring issues whenever possible.
Understanding how all the crafts work together to create a cinematic scene allows Richards to be more in tune with actors of color and how to problem-solve in the moment. "On deeper skin, more so than on fairer skin, because it has that reflective quality, it picks up green or blue. And those are neutralizers. They make it look dull, which it most certainly is not," she explains, "So, if a costume is blue or green, it has a tendency to bounce onto their skin and so you must re-balance it. Same with the set color palette. Those are the sorts of conversations that I have, but I am always scrutinizing. I look down at the lens; I don't just want to look at it on the screen, I want to look down at the lens and see it for myself. Then I can adjust accordingly."
Siân Richards takes this meticulous work ethic from the set to her product lines, and it shows. Her palette colors represent a global community from the fairest to the deepest, each curated and created with the utmost care.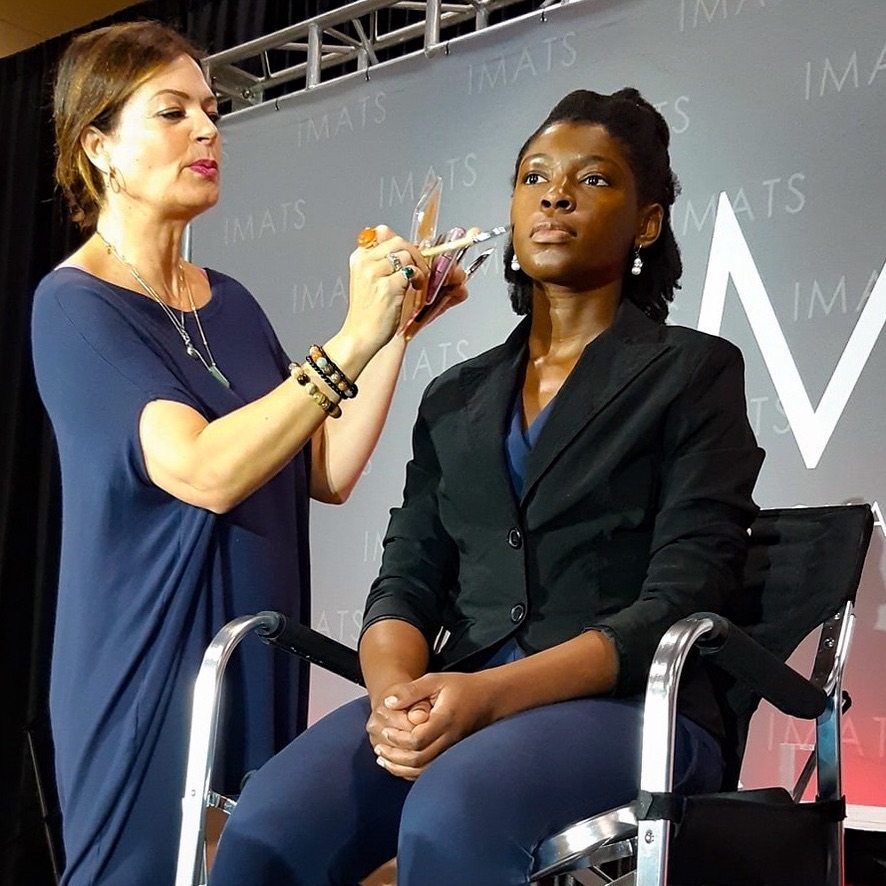 Siân Richards demonstrates makeup application on Nigerian model Kofo Owolabi at IMATS conference, courtesy of Siân Richards.
Siân's number one piece of advice for makeup artists? Embrace the art of your craft. "Go to art school. Learn to paint. Learn to mix colors," she says. "There's so much online that you can do now. We're supposed to be makeup ARTISTS. So, if you're an artist, be able to mix colors. See, draw, understand. That is the key! Beauty schools don't teach you to mix. They don't teach you to paint. They teach you to do color by numbers because that approach is driven by cosmetic companies. They don't teach you to be an individual. They teach you to be the same. So be an individual. Study art, get some paints, learn how to mix them, and then do the same with makeup."
With a passion for people of all shades and backgrounds, Siân Richards is a force in the makeup industry and continues to educate others through her YouTube Channel, Master Classes, and at Trade Shows.